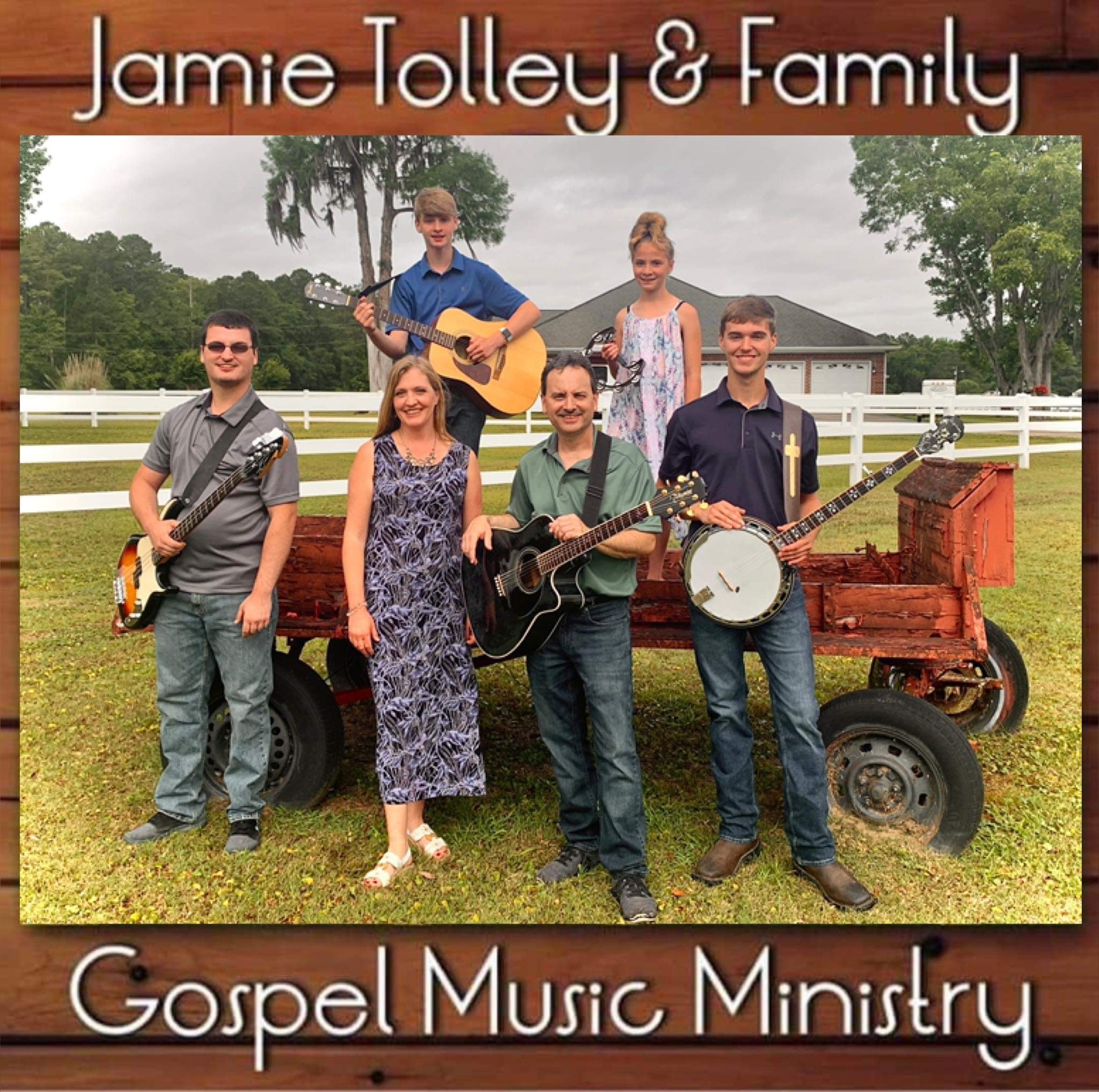 Jamie Tolley & Family
Jamie Tolley & Family
Ripley, WV 25271
Phone: (304) 532-2330
Email:
tolleyministries@yahoo.com
Watch our Ministry
http://www.youtube.com/watch?v=qF5VhbYN5rw
http://www.youtube.com/watch?v=HvFE7bWEoUk
https://www.facebook.com/photo.php?v=2490793282644
http://www.youtube.com/watch?v=6tZQvpJQCyY&feature=youtu.be
http://www.youtube.com/watch?v=m8DaiQOMia0
http://www.youtube.com/watch?v=Z9XhJSYzZGg
Jamie lives in Ripley, WV with his wife Rachel and their sons Austin, Jordan, Ryan and their daughter Lauren where they faithfully attend Goldtown Community Church. Jamie grew up on a farm in Staats Mill, West Virginia, where he was surrounded by gospel, country and bluegrass music. Jamie received his instrumental talents from his father Jack, who was always playing the pedal steel guitar and Dobro, and his mother Bessie who spent her days singing around the house. Singing in church was a big part of his childhood. His mother and father, along with his two sisters, were always singing in the country churches or just around the house. Jamie accepted the Lord as his personal Savior when he was 10 years old. For several years, Jamie traveled with Faithful Journey, a local southern gospel group based out of the Charleston, West Virginia area. He played the pedal steel guitar, Dobro, rhythm guitar and assisted with the backup vocals during that time. Jamie now sings southern/country/bluegrass gospel. Austin (age 13) has become a very good Piano/Keyboard Player and is a great asset to the Ministry. When able to travel with Jamie, Rachel & the kids also sing some songs and do a great job as well. They all look forward to traveling and doing what they have been taught and called to do for the Lord - through music.
______________________________________________________
References
To Whom It May Concern:

It is my privilege to recommend Jamie Tolley to you for your consideration. Jamie is an active member of our congregation at Goldtown Community Church. Jamie attends our services on a regular basis. He also is available and willing to present his musical talents to our congregation at anytime upon the request of our Music Director.
As a pastor, I am most impressed with Jamie`s faithfulness and dedication to his musical calling, both vocally and instrumentally. I have watched him deal with personal adversity with integrity, as well as handle notoriety with humility. He has a level of commitment to his family that I find very encouraging. I find Jamie to be goal-oriented, responsible, and diligent. He is also personable and cooperative. It is with confidence that I recommend Jamie Tolley for your consideration.

Sincerely,
Rev. Aaron Jones
Goldtown Community Church
Kenna, West Virginia 25248
(304) 988-3757
http://www.goldtowncommunitychurch.com/
________________________________________
Dear Friends in Christ,

It has been my privilege to have known and worked with Jamie Tolley for the last several years. He is not only an excellent musician, singer and songwriter, but he is a wonderful Man of God who has a genuine desire to minister the Gospel every time he has the opportunity. I am very honored to recommend Jamie for your church service or concert function, and I do so without any hesitation. I am confident he will certainly be a blessing!

May God Bless!

Mark Hale
Owner
Harvest Gospel Studios
Huntington, WV
(304) 522-2103
gospelrecording@aol.com
________________________________________
Schedule of Events
Date
Event Name


(click for event details)

Location
Apr 27 2014
6:00 p.m
Union Valley Gospel Tabernacle (Sissonville, WV)
Tuppers Creek Road

May 04 2014
7:00 p.m
Harvest Baptist Church (Moundsville, WV)
1201 Covert Street

May 17 2014
6:00 p.m
The Lighthouse (Findlay, OH)


May 18 2014
10:00 a.m
Chapel Hill UMC (Mansfield, OH)
3716 Bellville North Road

May 18 2014
6:30 p.m
Canton FWB Church (Canton, OH)
2817 Harmont Avenue NE

Jun 01 2014
10:30 a.m
Springwood Lake Campground (East Sparta, OH)
7373 Sherman Church Road S.W.

Jun 01 2014
6:00 p.m
Charity Missionary Baptist Church (Copley)
1579 South Jacoby Road

Jun 13 2014
7:00 p.m
Crossing Jordan Coffee House (Tampa, FL)
4406 Orient Road

Jun 14 2014
7:00 p.m
Open Bible Pentecostal Church (Tampa, FL)
7602 North Orleans Avenue

Jun 15 2014
11:00 a.m
Chapel Hill Baptist Church (Orlando, FL)
8826 Trevarthon Road

Jun 15 2014
6:00 p.m
Faith Baptist Church (Rockledge, FL)
3400 Murrell Road

Jun 19 2014
10:00 a.m
First Baptist Church of Central FL (Orlando, FL)
700 Good Homes Road

Jun 19 2014
4:30 p.m
The Tremont (Oviedo, FL)


Jun 20 2014
6:30 p.m
Sun City Center UMC (Sun City Center, FL)
1210 Del Webb Blvd.

Jun 21 2014
2:00 p.m
Azalea Park (Lakeland, FL)


Jun 21 2014
6:00 p.m
Faith Missionary Baptist Church (Tampa, FL)
2805 Silver Lake Avenue

Jun 22 2014
10:00 a.m
Christian Heritage Baptist Church (Winter Haven, FL)
150 Spirit Lake Road

Jun 22 2014
6:00 p.m
Baptist Temple of Dundee (Dundee, FL)
206 Center Street

Jun 25 2014
6:00 p.m
Strong Tower Christian Fellowship (Ormond Beach, FL)
90 South Ridgewood Avenue

Jun 26 2014
6:00 p.m
Cowboy Church (Townsend, GA)
1288 Cox Road SW

Jun 29 2014
6:00 p.m
Point Pleasant COG (Point Pleasant, WV)
2401 Jefferson Avenue

Jul 10 2014
10:00 a.m
Thomas Road Baptist Church (Lynchburg, VA)
1 Mountainview Road

Jul 12 2014
6:00 p.m
Church of the Living God (Ashtabula, OH)
1030 Bunker Hill Road

Jul 13 2014
10:45 a.m
Kelloggsville Church of the Nazarene (Conneaut, OH)
4841 State Route 84

Jul 20 2014
6:00 p.m
Faith Christian Church (Bloomfield, IN)
Highway 54 West

Jul 26 2014
6:00 p.m
New Life Worship Center (Conway, SC)
Hwy 319

Jul 27 2014
10:45 a.m
Dogwood Hill Baptist Church (Loris, SC)
1040 Mt. Zion Road

Jul 27 2014
6:00 p.m
Sharon Baptist Church (Longs, SC)
Hwy 90

Jul 30 2014
7:00 p.m
Pleasant Hill Baptist Church (Conway, SC)
6907 Hwy 905

Aug 09 2014
6:00 p.m
Faith Baptist Church (Wilmot, OH)
Main Street

Aug 10 2014
11:00 a.m
Mountain of Hope Faith Church (Clinton, OH)
6385 South Cleveland Massillon Road

Aug 16 2014
6:00 p.m
Wilderness Baptist Church (Spotsylvania, VA)
9701 Plank Road

Aug 17 2014
11:00 a.m
Wilroy Baptist Church (Suffolk, VA)
306 Williams Road

Aug 17 2014
6:30 p.m
Pinecrest Baptist Church (Portsmouth, VA)
209 Felton Road

Aug 31 2014
10:30 a.m
McGuffey FWB Church (McGuffey, OH)
205 Courtright Street

Aug 31 2014
6:00 p.m
True Believers Fellowship (Holgate, OH)
310 Kaufman Street

Sep 01 2014
11:00 a.m
Hancock Co. Gospel Pavilion (Findlay, OH)


Oct 17 2014
7:00 p.m
Buckland Presents (Lancaster, SC)
2973 Buck Brasington Road

Oct 18 2014
6:00 p.m
Open Arms Baptist Church (Kershaw, SC)
5401 Lockhart Road

Oct 19 2014
10:00 a.m
Samaria Baptist Church (Batesburg, SC)
6560 Fairview Road

Nov 01 2014
6:30 p.m
Neighborhood FWB Church (Oregon, OH)
3409 Seaman Road

Nov 02 2014
9:30 a.m
Liberty Center Wesleyan Church (Liberty Center, OH)
306 West Maple Street

Nov 16 2014
11:00 a.m
Trinity Temple (Milan, OH)


Nov 16 2014
7:00 p.m
Applecreek UMC (Applecreek, OH)
269 West Main Street

Dec 07 2014
7:00 p.m
Red Oak Community Church (Nitro, WV)
Red Oak Drive

Jan 17 2015
6:30 p.m
Flowertown Baptist Church (Summerville, SC)
1305 Boone Hill Road