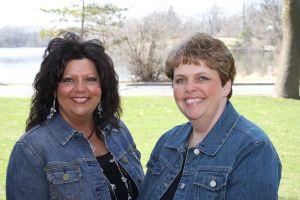 Sisters x Two
Sisters x Two is a Southern Gospel singing group consisting of Tammy (Hall) Meredith and her sister Linda Hall and Tammy's husband Mike. They call themselves Sisters x Two, as they are sisters twice. First they are biological sisters, born into the same family, of the same earthly parents. Second but most importantly they are sisters in Christ, born again into the family of God, through the belief in the death and resurrection of Jesus Christ.
Tammy & Linda were raised on Southern Gospel Music and know the benefits and blessings involved in living and singing the praises of a living savior. The Sisters are originally from southern Ohio and are presently residing in Goshen, Indiana. They both love to use the talents the Lord has given to them at every opportunity, hoping to help the lost find their way to God through their Ministry in music. With their sibling voices blending under the anointing of God and the words to the songs that they sing, they are sure to be a blessing to you and your congregation.
Tammy and Linda have been a vocal part of the Gospel music field for a number of years; whether singing together or separately with other singing ministry groups to proclaim the gospel.
The Lord is truly opening doors and hearts as He expands His Ministry in their lives.
Sisters x Two would count it an honor and a privilege to be in service with you at your church / special singing event, sharing the gift that God has given to them.
Schedule of Events
Date
Event Name


(click for event details)

Location