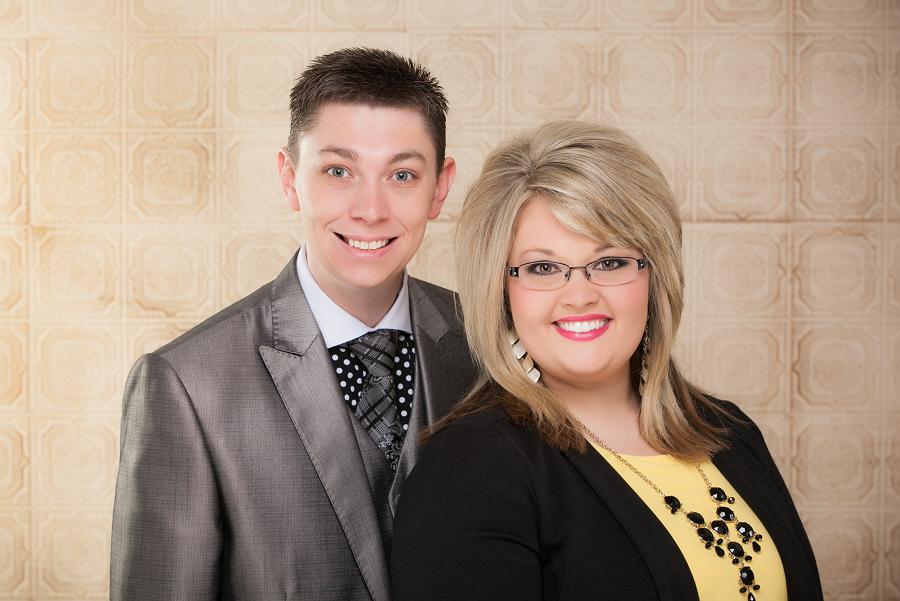 Josh and Ashley Franks
JOSH AND ASHLEY FRANKS are an anointed husband/wife team whom traveled separate ways to become one dynamic duet.

JOSH FRANKS began a ministry at a very young age traveling as a soloist and evangelist. While a soloist he won 3 of the top talent contest in gospel music. Josh is also known for his powerful vocal ability, exciting emceing and his "holy-ghost filled" services. God has blessed Josh in more ways than singing and preaching. He is very talented. He is a very gifted musician who has never had a lesson and able to play just about any instrument he wants. About 10-12 times a year, Josh promotes Southern Gospel Concert Events. He and Ashley have hosted groups such as, the Booth Brothers, the Perrys, Triumphant Quartet, Gold City, the Chuck Wagon Gang, Bowling Family, the Kingsmen, Karen Peck & New River, the Freemans, the Hoppers, Gerald Crabb, Primitive Quartet, the McKameys, Talleys, the Whisnants, Kingdom Heirs and Mark Bishop just to name a few. Josh gives credit most of all to the Lord up above but also to his former pastor, Rev. Alvis Barnett. Josh states, "Pastor Barnett and his wife, Arleigh were my pastors while I was growing up. Bro. Barnett was my role model. He was a very talented singer, songwriter, and preacher/pastor. Bro. Barnett passed away in 1998 and he told me to stay on track with Jesus and he would take me far and wide."
In September 2006, Josh's life would began to change as he would met, what he didn't know at the time, the love of his life, ASHLEY FRANKS. When Josh and Ashley met she was traveling with, Hope's Journey from Heflin, AL, the group Ashley and her mother started. Ashley had been on the road for a little over four years. She has a sweet, gentle spirit about her while delivering her songs in a soft yet powerful voice. Many of the songs sung by the Franks', have been written by Ashley. God has given her the gift to write songs. Her latest recorded song, "Levi's Song", sung by Josh & Ashley reached #51 on the gospel music charts. Ashley's mom, Vonda, was the biggest mentor in her life. "If it weren't for her, I wouldn't have ever known Jesus. My mom is a great woman of God", Ashley says.
When JOSH AND ASHLEY met, they had no idea just how much their lives were going to change. They began to see more and more from September 2006 to February 2007 when Josh would ask Ashley to marry him. She very happily accepted and they were united in marriage on December 8, 2007. Josh & Ashley now have two precious children. Daugther, PRISCILLA ROSE, who was born on January 5, 2011. And son, JOSHUA ELI was born on November 20, 2013.
God is opening doors for JOSH AND ASHLEY to sing and share the gospel of Jesus in places they would have never dreamed of such as Singing In The Sun, James D. Vaughan Festival, Galtinburg Gathering, Bill Bailey`s Gospel Music Winter Convention, Showcases and Main Stage at the National Quartet Convention, and many other places. They are truly soldiers of Christ and followers of His footsteps. They were nominated in the 2008, 2011, 2013 Diamond Awards for Duet of the Year, the 2011 SESGMC Duet of the Year Award and 2011 Duet of the Year award in the SGM FanFair Awards! Averaging around 200 services a year, they travel all across the country spreading the good news at fairs, festivals, concert halls, auditoriums, churches, arenas, theaters, and even at gospel supper clubs.

If you have never heard JOSH AND ASHLEY FRANKS, get ready to be moved by some anointed and exciting music and ministry!
Schedule of Events
Date
Event Name


(click for event details)

Location